A quick and easy way to give to our various ministry funds is Texting using your smart phone.
Just text BRIDGECCNY in your message box and send it to 77977.
Immediately you will receive a response text in way of a link.
Click on the link and you will be directed to a form with instructions on how to give using Pushpay
For future convenience you may  download a simple Pushpay app to your phone. 
Just go to your phone's app store

(Iphone App Store  or  Google Play)

and search for the Pushpay Icon
If you do not have a mobile phone you may go to our website bridgechristianchurch.com and to the right  of the page you will see this button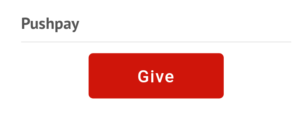 When you click "Give" you can enter your information. Then when it asks for a mobile phone number instead click on "Need help?" and other options are given to receive a security code for your protection.

We love to promote our full Church App to connect you to everything thats The Bridge,
including a Bible App, Facebook & Website links, Connect options, and Giving link.
This can be found in the app store under The Bridge-Schenectady NY.
Just look for our own Logo